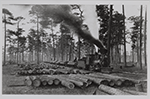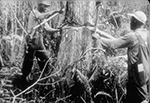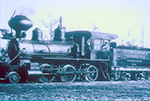 You would never think of the Florida Everglades as a major contributor to Florida's logging industry, but from the 1920s through the early 1950s, it was. The epicenter was the long-abandoned Collier County town of Jerome, located on State Rd.29 just north of U.S.41. The Jerome lumber mill once was among the most productive in the United States. During the 1940s, loggers cut and finished about 100,000 board feet every day. About a thousand workers, mostly African-American men, kept the mill going. In addition to the dangers inherent in this kind of work, the men dealt with snakes, alligators, and oppressive heat. This little known part of Florida history was extensively documented in 1994-1995 by South Florida filmmaker and historian Cesar Becerra. SPC staff have recently completed the processing of this collection, which represents Mr. Becerra's work and research that has subsequently been used in exhibits and at least one court case. The includes photographs taken during the industry's heyday, government documents, videos, and oral history interviews with former loggers.
Access the Cesar Becerra Logging Collection Finding Aid.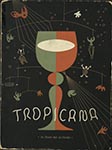 The Elena Kurstin Cuban Memorabilia Collection provides a glance at Cuban life and culture in the years prior to 1959. Rather than focusing on one specific aspect of Cuban life, this collection acts as a time capsule. It contains assorted pieces of ephemera that depict the lives of average Cuban people. Included are photographs of the countryside and people, postcards, and advertisements. The Cuban tourist industry is well represented, especially the resorts and casinos of 1940s and 1950s Havana. You can also find swizzle sticks, coins, a Pan Am lighter, and many other small ephemeral items in this fascinating collection. There are several Life Magazines from the 1950s and 1960s related to events in Cuba such as the revolution and the Missile Crisis.
Access the Elena Kurstin Cuban Memorabilia Collection Finding Aid