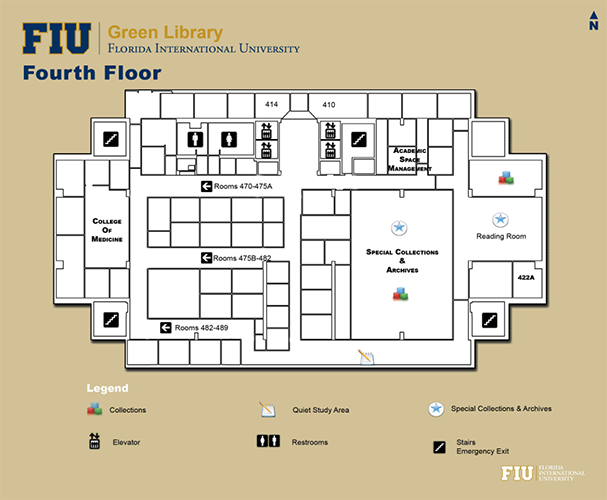 Researchers who have located materials of interest to them should contact the department for access. Social distancing guidelines will be followed in the reading room. For information on how to locate materials please visit Special Collections. Our Librarians will continue to provide reference and research consultations via phone and email. Contact the Special Collections and University Archives department for research and collection questions at (305) 348-2412 or spcoll@fiu.edu.
READING ROOM POLICIES
The reading room is reserved and available for patrons using materials from our collections and archives.

Books and collections are stored in closed stacks and retrieved by staff upon request for use in the reading room only. Materials can not be checked out of the library.

Please contact us to schedule an appointment to access research materials. Please allow 48 hours notice to retrieve requested items.

Some items are housed offsite and immediate retrieval may not be possible.

Researchers are allowed up to four boxes at a time.​​​​​​​

Appointments are required for the use of media formats for audio, video and photographs housed in the Special Collections & University Archives. Materials may need to be reformatted before being accessed and this will be at the expense of the researcher.

This is a quiet zone. Group meetings, loud conversation and the use of cell phones are prohibited.

Food and drink in any form are prohibited.

Patrons are requested to use pencils only for taking notes.

Photocopying and scanning of some fragile documents may be restricted to preserve the condition of the material.