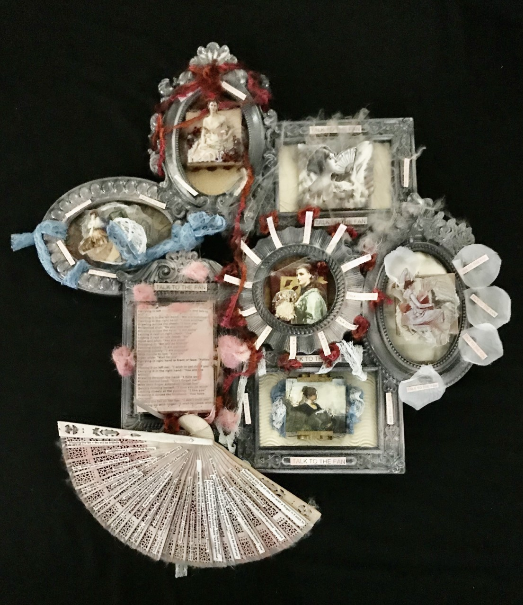 TALK TO THE FAN in Victorian Times and ME TOO TALK TO THE FAN.
Talk to the Fan Victorian is 23" X 22"
Me Too Talk To The Fan is 17 1/2" X 35".
Price is $2,000 each.
From the 16 th century the fan was used in fashionable society as a means of communication. The messages conveyed on the whole were those of love, a form of sign language. In today's Me Too movement the Me Too Talk to the Fan is a weapon against men in the workplace armed with a little black dress and a hand fan, a weapon for expression. Speechlessness affects women and people of color in all kinds of relationships, and promotes unfair power dynamics in society.
I was born in Cuba, and I've lived in Miami since 1961.
I began painting in 2010, after a long absence, and soon after started experimenting with photography using the camera as a tool. In my abstract photography I discovered my compositions by altering the scene with my hand - removing and rearranging objects that reflect light. From the abstractions I turned to using the human body, mostly dancers because of the way they move, adding the same materials I was using in my abstractions - fabric, plastics, different colored lights, and more. I took these photos at parks, the beach, and Wynwood. I then started making headpieces and masks to use in my photographs of performers and artists in turn creating a type of theater in the streets using places such as the Coconut Grove Playhouse, Olympia Theater, the Downtown Miami Macy's, the Chinese Village, and even the middle divider of Coral Way as a backdrop. Most recently, I have been interested in graffiti and, more specifically, tags. I take photos of them and transform them using collage to make them my own. I like tearing things apart and recreating. I never know what people will pick up on. Tags are the telegraph of the streets. It represents the eyes of the artists, the culture of the community.
I have also done print work at Fullwood - an old printing shop in Wynwood that no longer exists. I experimented with monotypes and also used collage to reconstruct pieces that I tore from them. Collage has become a theme for me.