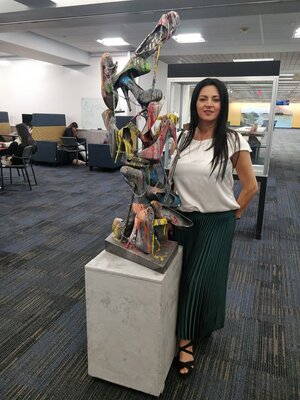 Maria Carballo was born and grew up in the city of Manizales, Colombia. She comes from a family with artistic inclinations. She studied at the Mariana School where she took art classes in painting, crafts, music and performance. In her blood was a special attitude for all of these disciplines.
In 1998 Maria moved to Miami, Florida following her lifetime dream and in search of new horizons. She currently resides in the City of Miami, in Florida. In 2000 Mary begins to study theater and music in the Miami Dade College and again, in 2001, she starts working as visual artists and finishes her first 4 paintings. At that time she was not clear on what would be her style, but she later discovered the "what and why" of her art. Since then she began painting intensely. She enjoys exploring the contemporary art, surrealism and abstract. Art is her passion and her world. She is inspired by everything that surrounds her, everything she sees in the daily life. She desires to capture places she's visited and those she wants to visit. Her skills are up to where God wants her to go. Her art is limitless.
Maria loves to create connection between her art and the people, and thus, providing a message of peace and love. Her motto is to be transparent, to strip the soul dropping the masks. In her work she always includes a women's shoe in her work as an representation of women in general, of their sensuality, their sweetness, their tenderness and their love as a source of light, passion, understanding, happiness and stability. Her work always leads her to define a subject, and the shoe takes the representation of a person, animal or thing.
This is what she loves, what she transmits is this wonderful world She mixes different colors in each brush stroke which translates her creative inspirations onto the canvas. Different techniques are interwoven between realism and surrealism. Her thinking is a real vision transformed where she reflects different emotions. She uses a variety of vibrant colors mixed with other objects which together form a whole variety of textures.
Maria currently lives in Miami, Fl. Maria believes that art is the best way to express her imagination, always thanking God, her family and all those people that have supported and believed in her. According to Maria "Art is Life".