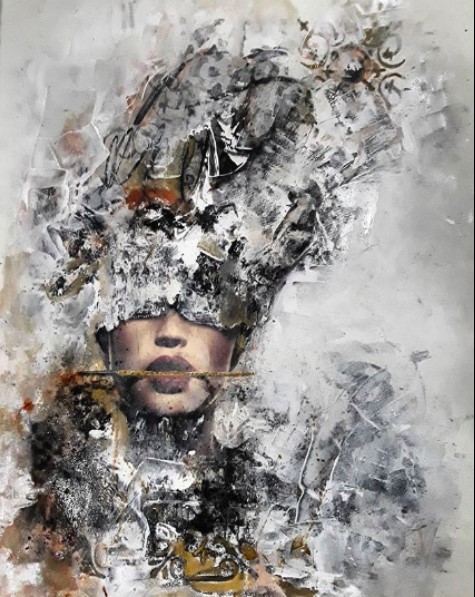 Blindfolded
24 x 36
Mixed media on paper
$600
Bibiana Cervantes was born in Armero, Colombia, in 1970. She is an independent visual artist recognized; Master in investigative and graduate journalism as a film and television producer. Its professional performance is highlighted by the realization of a significant number of personal and collective exhibitions, in the US and other countries in Latin America. Her work is characterized by the fusion of diverse horizons and the transgression of established limits to art in tradition, which places her genuinely as a visual artist in the current sense.It has several awards and a considerable number of awards, which have been awarded both within the circuit of art and its concomitant spaces. His work has been reviewed and valued by specialists and critics in different media: specialized magazines, catalogs, newspapers, websites and television programs.
Nació en Armero, Colombia, en 1970. Es una artista visual independiente reconocida; master en periodismo investigativo y graduada como productora de cine y tv. Se destaca su desempeño profesional por la realización de un importante número de exposiciones personales y colectivas, en USA y otros países de América Latina. Su obra se caracteriza por la fusión de horizontes diversos y el hecho de transgredir los límites establecidos al arte en la tradición, lo que la coloca genuinamente como una artista visual en sentido actual. Cuenta con varios premios y un considerable número de reconocimientos, que le han sido otorgados tanto dentro del circuito del arte como de sus espacios concomitantes. Su obra ha sido reseñada y valorada por especialistas y críticos en diferentes medios de comunicación: revistas especializadas, catálogos, periódicos, sitios web y programas de televisión.
artebibiw@gmail.com
Instagram: @artebibianacervantes
Click here to return to the main exhibition page.