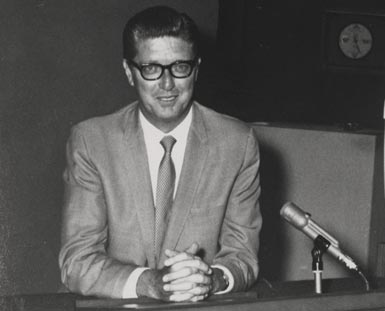 The University Archives of Florida International University is grateful to the family of Ralph Renick for the donation of his papers
Ralph Renick was born in New York City in 1928 and at the age of twelve he moved with his mother and two brother to Miami.
WTVJ signed on March 21, 1949 at 7 p.m. as Florida's first TV station and only the 16th in the United States. A year later Ralph Renick joined the station as it's first TV news anchor. There aren't many Floridians who can claim to remember WTVJ before Renick, fewer that 2,000 people were able to see the station on opening night. On September 2, 1957 Ralph Renick pioneered the introduction of the country's first daily television editorial. During his time at WTVJ he wrote and aired more that 4,800 of his "Tonight's Editorial". "The Ralph Renick Report", WTVJ's weekday six o'clock news program had the distinction of being the nation's longest continuous running TV. Ralph Renick left his job at WTVJ, in 1985, to run for Governor of Florida as a Democrat. He withdrew six months later after spending $100,000 of his own money, saying he did not have a taste for politics. He returned to television as a commentator for WCIX in Miami in 1988 and retired in September 1990. Ralph Renick died on July 11, 1991.
33 linear feet.