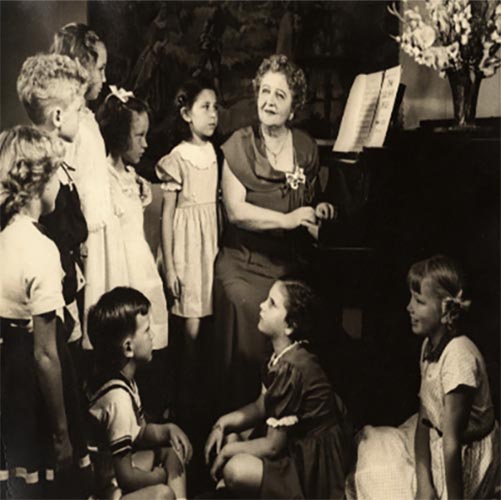 Mana-Zucca (born Gussie Zuckermann) was an internationally known pianist and composer. The collection was donated to FIU by Leslie Cassel, an FIU alumna and widow of Marwin Cassel.
Mana-Zucca was born in New York on December 25, 1885. She was a child prodigy who by age eight had played with the New York Symphony Orchestra. After studying with the great music teachers in New York and Europe she performed in Russia, Germany, France, Holland and England. Her early training included voice lessons and in addition to her career as a concert pianist, she successfully starred in several musical comedies, appearing on Broadway with Clifton Webb.
The collection consists of handwritten and published scores, full original orchestration of her works, including operas and marches, records, and diaries. Much of her life is documented in an extensive collection of scrapbooks and photo albums. Mana-Zucca was one of the most photographed women of the time, and many of the photographs are with her son Marwin, late husband of the donor, Leslie Cassel.
Approximately 75 linear feet.
---
Digital Content
| | | |
| --- | --- | --- |
| | | |
| Early Photographs | 1897 Scrapbook of Public Appearances | 1900s European Travels |
| | | |
| --- | --- | --- |
| | | |
| Early Article Clippings & Ephemera | Mazica Hall | In The Never-Never Land |
| | | |
| --- | --- | --- |
| | | |
| In Youngsterland | Spinach and 'Leven Other Songs | I Love Life Publications |