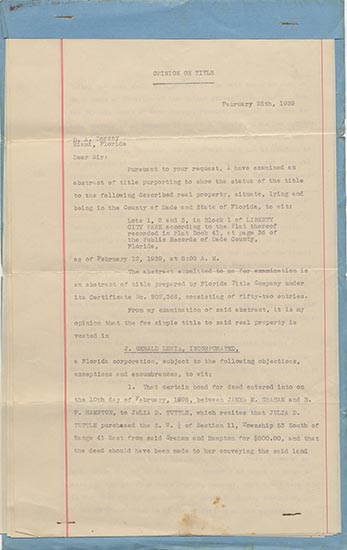 Dana A. Dorsey (1872-1940) was the first African-American millionaire in Miami. He and his wife Rebecca acquired extensive real estate holdings in the newly incorporated city and built sold and leased property to many of Miami early black residents. They developed extensive financial dealings with the founders of early Miami, among them Mary McCleod Bethune and the Brickell family.
The collection of Dana A. Dorsey is comprised of the legal and financial records of his vast real estate holdings. Mortgages, leases, rental and loans agreements represent the focus of the collection. Of special interest to researchers are those documents which detail the growth of both black and white Miami, deeds which describe in detail the properties and location of what were the newly created sub-divisions in the city. In a period of racial segregation these documents show a blurring of racial lines as exemplified by Dana Dorsey business relations with the founding families of the city.
Born in Quitman, Georgia and the son of former slaves Dorsey (1872-1940) was a self taught man who with only a fourth grade education became a highly influential businessman, realtor, banker, and philanthropist. His business involvement in the Miami area began around 1896 when working as a carpenter for Henry M. Flagler's Florida East Coast Railroad he recognized the need to provide housing for black workers. By purchasing land, constructing rental housing and reinvesting the income to build more, he was able to extend his holdings as far north as Ft. Lauderdale. During the area of segregation Dana A. Dorsey was one of the pioneer land owners in the Liberty City Development. He and his wife sold land on Northwest 17th Street and First Avenue to the City of Miami for a park for African-Americans which is still enjoyed today. Dorsey Hotel, the first black owned hotel in Miami, and the Negro Savings Bank were his properties. Dorsey was a firm believer in education and he donated large tracts of land for black schools. He sold to Dade County Public Schools for one penny the property on which Dorsey High School was eventually built. The Dorsey Memorial Library, opened on August 13, 1941, was built on land he donated shortly before his death. The flags were lowered to half-staff all over Miami when Dana A. Dorsey died in 1940.
Approximately 340 financial documents.