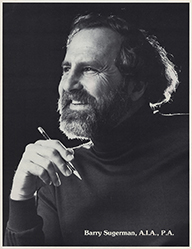 The Barry Sugerman collection was donated by Andrew Huber and Barbara Sugerman to the FIU Special Collections and University Archives. The collection consists of books, architectural plans, photographs, magazine articles and other items relating to the expansive work of Barry Sugerman, Architect, A.I.A.
Sugerman designed homes, office buildings, temples, restaurants and banks in the United States, Latin America and the Caribbean. He specialized in designing custom homes providing both architecture and interior design. One can see his designs in homes all over South Florida in areas such as Coral Gables, Pinecrest and Miami Beach. His prolific career spanned almost four decades during which he won multiple awards for his designs.
This collection is in process.
Contact us for further information.