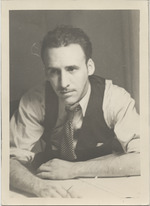 The Abril Lamarque papers date from 1904-2002, with the bulk of the material ranging from 1904-1999. The collection documents the life and career of Cuban-born cartoonist, designer, illustrator, graphic artist, caricaturist, and art director Abril Lamarque through printed materials, scrapbooks, writings, and original artwork. Found are files and numerous examples of his design work for the New York World-Telegram and Evening Mail, the New York Daily News, the New York Times, US News-World Report, Dell Publishing Comapny and others; cartoons and caricatures by Lamarque; files regarding his writings and workshops and his memberships in various organizations. Lamarque's life-long interest in, and amateur performances of, magic are also documented to a lesser extent.
The collection consists primarily of varied printed material (1883-1989), such as magazines, newspapers, clippings, posters, and other publications that Lamarque either designed or that feature his cartoons, caricatures, or illustrations. These include clippings of the comic strip Monguito and editions of the Havana newspaper Lunes de Diario de Cuba.
Printed material also includes posters, some humorous and others more serious, such as the posters Lamarque designed for the "Aluminum for Britian" project which he was asked to discontinue by the U.S. State Department. Seven scrapbooks (1920-1959) containing clippings and articles, illustrations, scattered letters, photographs, invitations, artwork, and other materials detailing Lamarque's extensive artistic career and his amateur magic performances are also found within the collection.