Donna Aza Weir-Soley
8 minutes and 46 seconds
Poem
(transcript)
Fereshteh Toosi
Détournement of KKK calling cards:
The only reason, 2006
Yesterday-Today-Forever, 2019
The 2006 card responded to the parallel between mobilizations by immigrant workers in the early 2000's and the civil rights movement of the 1960s. The card appropriates and repurposes a calling card created in the 1970s by the American white supremacist hate group, the Ku Klux Klan. The original card text: "The only reason you are WHITE Today Is Because Your Ancestors Believed & Practiced SEGREGATION."
The only reason, 2006
Fereshteh Toosi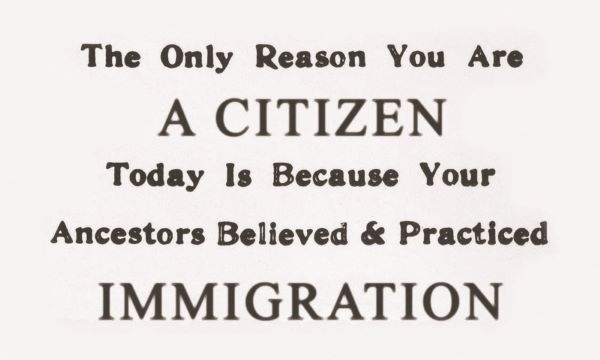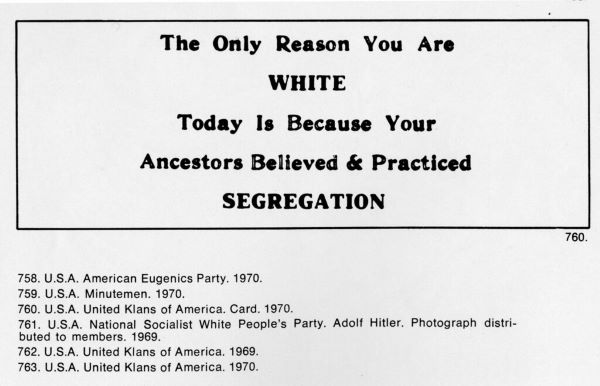 I revisited this project to address the upswing in xenophobia, racism, and white supremacy that constitutes the current war on Black people, indigenous people, people of color, and immigrants.
My 2019 card appropriates and repurposes a 1942 KKK calling card collected by Stetson Kennedy in Florida. Kennedy was a folklorist, environmentalist, and labor activist, known for his infiltration of the KKK during the 1940s.
Like the ones made in 2006, these cards do not directly address the violence of the forced migrations of Black people and the genocide of indigenous people.

Yesterday-Today-Forever, 2019
Fereshteh Toosi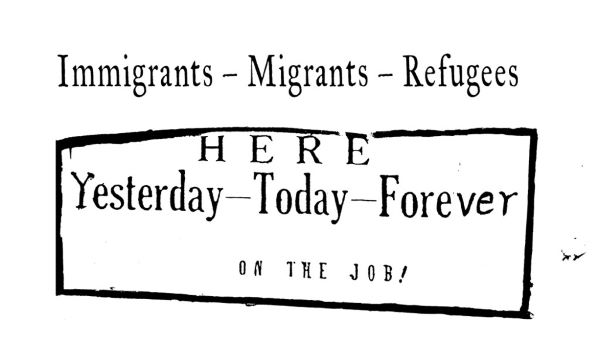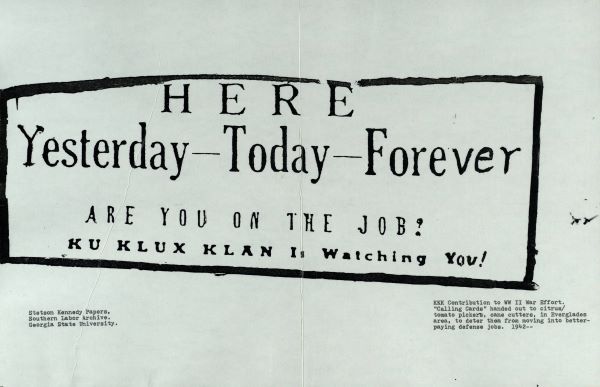 ""Calling cards" handed out to citrus/tomato pickers, cane cutters, in Everglades area to deter them from moving into better paying defense jobs. Text on card: "Here Yesterday–Today–Forever. Are You on the Job? Ku Klux Klan is Watching You!" Stetson Kennedy (1916-2011), writer and civil rights activist, collected these photographs during the course of his career fighting for equality throughout the Southern United States."
-Stetson Kennedy Papers, Southern Labor Archives. Special Collections and Archives, Georgia State University, Atlanta
Valerie L. Patterson
The Black Fantastic
Paper, fabric, ink
8 1/2 x 11 inches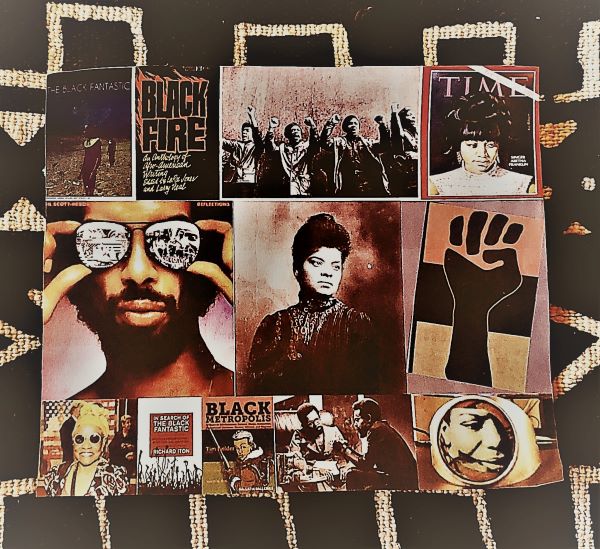 Beatriz F. Fernandez
In the Flesh
Poem
Dadeland Mall, Miami, 1979
Outside of grainy black and white
photos in history textbooks,
I first saw them here—
parading across glossy-floored halls
alongside Sunday shoppers
and toddlers in strollers riding by,
round-eyed over ice-cream cones.
At first, I mistook them
for the Holy Week penitents
I'd last seen in Seville,
those draped in black,
shuffling under the weight
of statue-laden platforms
and ebony crucifixes
raised above their bowed heads.
But no sculpted wooden Virgin,
crystal tears lit by white wax tapers,
swayed beneath a golden canopy,
and no worshipful saetas were sung
by these cold-eyed men,
whose hoarse voices only crowed and jeered,
blue veins twisting like ropes on hands
hoisting signs and blood-red flags—
nothing riding those white-robed shoulders
but an ancient hatred—
still held high.